I feel extremely grateful and blessed that I had the chance to be part of an experience like this. Campo Emilia blessed me with the most beautiful three weeks of my life. I had an eye opening experience, lasting friendships were made, and now I have a million memories to share. I cannot describe how I felt after the camp. So fullfilled, loved and overwhelmed in a good way. Tears in my eyes I came back to Finland. I was going through some really tough time before coming to Italy and you guys at the camp healed me a little. You made me feel worthy, loved and cared again. You made me see myself as a good person againand you made me respect myself. I also learned to respect others moreand see their point of view and help them with their problems.I learned a lot about different cultures and after all we are not that different at all. I traveled and lived with over thirty strangers and we didn't know each other but little by little we learned something from each other and became friends and even more, a big family. All the laughs and tears we shared. I got to know so many awesome and beautiful people around the world. I'm so happy to know you all.
My host family stay was more than I could have ever hoped. I had been in touch with my host sister months before. They welcomed me at the airport and took me to eat dinner. I had a great family with three siblings. We had a lot of fun together and they took me to many places. We visited Stracorada, Cinque Terre, Bologna, Modena and Golfarone. I was very happy with them and I felt loved. They took good care of me and I am very grateful for them. Italy is such a beautiful country with the tastiest food. My host family also teached me how to do some traditional foods and they made me taste almost every traditional food around Reggio. I had new interesting experiences that will stay in my heart forever. I loved spending time with my host sister and brother and their friends. Now I'm still in contact with my host family and they feel like a second family to me. We became very close. It was hard to leave them but I knew that the camp would be a blast.
Arriving to the camp was so exciting! I was very nervous but happy. Soon everyone was already making friends and getting well along. I had never imagined that I would have a chance to live 10 amazing days in a real castle! I really enjoyed it and waking up everyday with an amazing view with good friends and watching the stars late in the night sky was something I'll never forget. I feel like a peace of me was left into that castle and my heart will always have a place in there. We did so many unforgettable activities and my favourites where actually the endless buss drives, visiting the parmesan factory, the days in Milan and Parma and after all the blind dinner. The long-lasting dinners at the castle werealsovery nice. And how can we forget the disco party! You guys made everything fun and memoriable.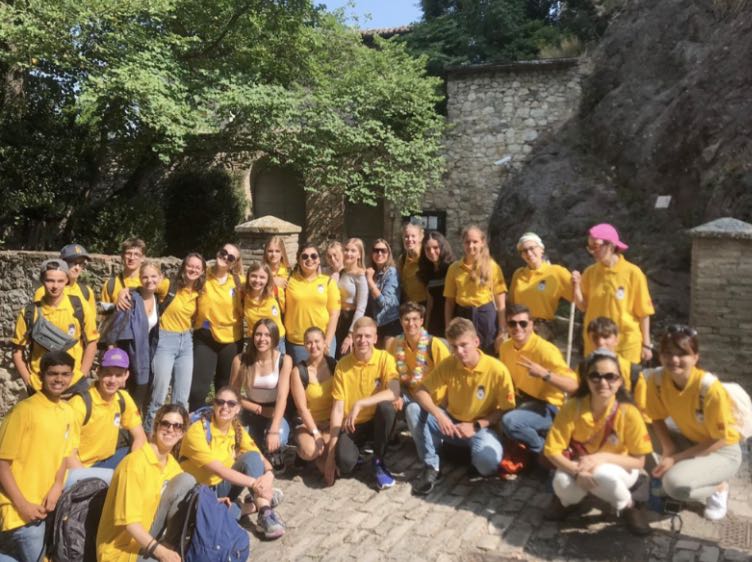 This experience really taught me to appreciate what I have and not to take anything for granted. Also a big thanks for all the camp leaders and other camp staff for making everything possible and of course for Lions.
This summer I will never forget. I truly hope we well see each other some day. I miss each and every one of you and remember, you will always have a home in Finland. I love you and thank you!