On Saturday 13 July, I went to Milan Malpensa airport with my luggage and a lot of questions in my head: will I enjoy this new experience? What will I do with my host family? And in the camp? Will the other guys be nice? Will I become friends of them? But my questions were also about the country: I had never been in Poland and I didn't know what to expect from it.
With my head full of question marks, I said goodbye to my family and I took my flight to Krakow. When I arrived, my host family welcomed me and we started talking about our different traditions. Then, my host mum took me in the city centre, where other four guys from another host family were waiting for me. Their host brother, Jakub, offered himself to take us in the most beautiful places in Krakow during the week, so he became our guide. Immediately, the other guys and me started knowing each other and after a few hours we became friends. Fortunately, they were really nice people and spending time with them was so funny and interesting, also because I knew many things about their countries: Indonesia, India, Ukraine and United States. During this incredible week, we visited some museums, a salt mine, the old city centre and some other wonderful places.
Furthermore, we spent a night in a club, so we could also see the Krakow's nightlife and, of course, we went shopping. Well, I can say I spent the most part of the time with them because we met every day at 1 pm and we returned home at about 10 pm; but it was absolutely a positive aspect, because we had always something to do together and we never got bored! My host family was very available for me and I could ask them for everything I needed. I was so lucky to know them and I hope I will see them again, maybe in Italy!
This week passed so quickly and I absolutely enjoyed it. I loved visiting this wonderful city, Krakow, and I had so much fun with my new friends! Unfortunately, it was already time to leave my new family and my new Polish friend, so, sadly, we said goodbye but we promised to keep in touch.
Another adventure was about to begin: the camp. When we arrived in Legnica, the small city where was our dormitory, we were welcomed by the staff and they explained us about the regulation there. Then, we met the other guys from all over the world and we shared our experiences about our week in our host family and our expectations about the following week. Once again, I found a group of friendly and lovely people, with whom I spend another amazing week.
During the camp, we visited the city centre, that was really nice, a medieval castle near the city, a bubbles factory where we also tried to decorate some bubbles, a ceramic factory and its museum and the city of Wroclaw, where we saw its great buildings and then we went shopping. We also take a golf lesson with some professional players, and I discovered that playing golf isn't so easy like it seems.
At lunch, we ate some typical Polish dishes that for me were very unusual because they are so different from Italian ones; while at dinner, we prepared some typical dishes from our country, so I could taste some dishes from many different parts of the world and I found it so interesting! Then, every evening, we had to present to our friends the most important features of our country with some slides: with this activity, we could know some information about our friends' traditions and habits. In the evening, after that, we usually played some games together and we had a lot of fun, also because sometimes it was very hard to explain or understand the regulation of the game in English, but in one way or another we always was able to play them.
This week was fantastic too and, in conclusion, I can say that this Lions Exchange is one of the best experience I have ever had in my life: I could meet people from all over the world, I could know different traditions about so many countries and I could visit some amazing places. I will never forget about it, especially about the people I met there. When we had to left to go home, we all were crying and we promised we will see somewhere again, to remember our fantastic days together. Personally, I already miss them so much, even if I stay in touch with them at the moment, and I am so happy to have some friends around the world, because I think that it is the best way to learn a lot of things and also improve my English.
I am really grateful to the Lions Club who offered me such an incredible opportunity and I hope I will do another similar experience one day, because it helped me be a open-mind person, without any kind of prejudices, and it turned me into a rich person, but, you know, I am not talking about money!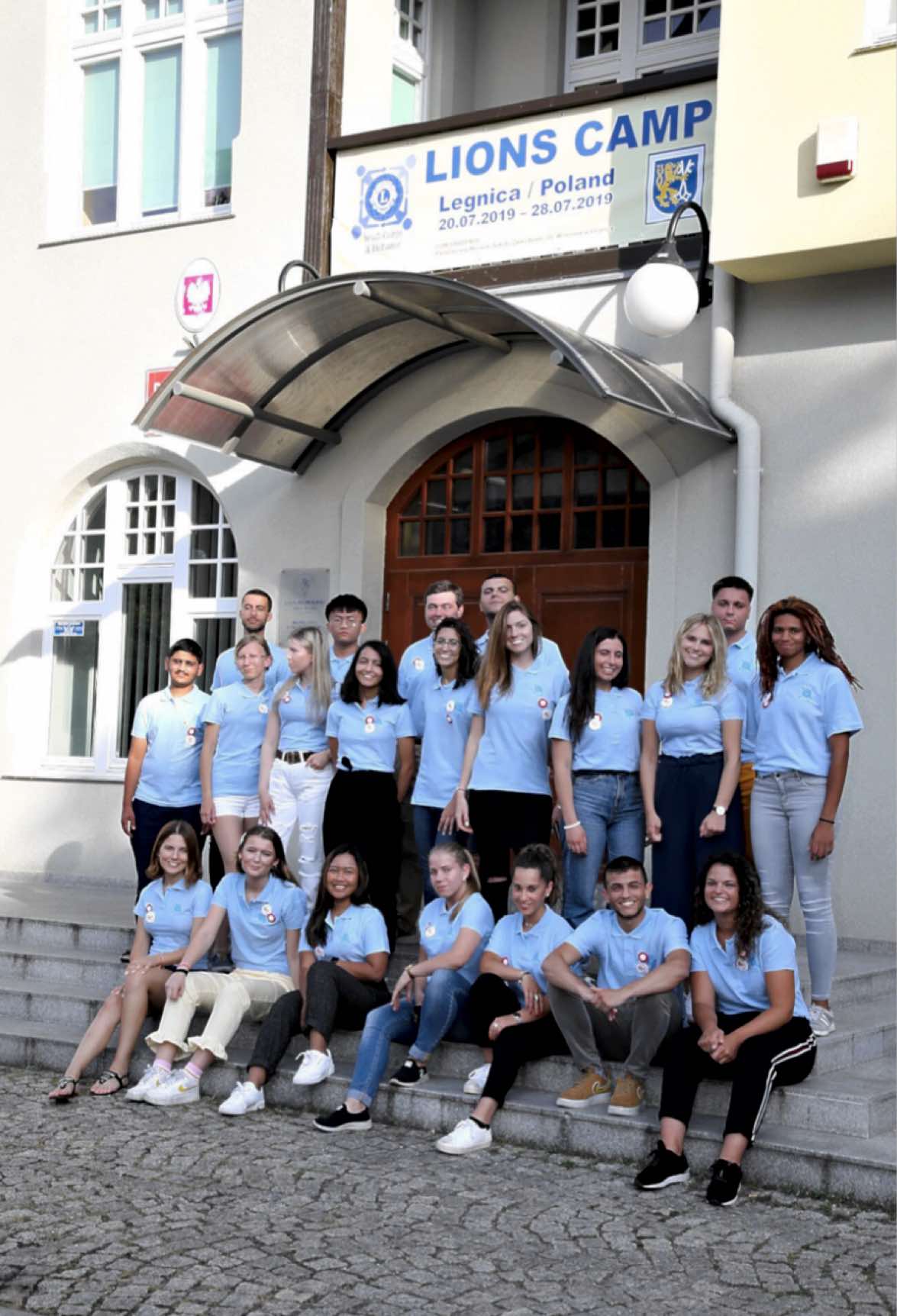 Lions Camp 2019, Legnica