This summer i stayed 3 weeks in Austria, the first one in an Austrian family and the other 2 weeks in a camp.
The Lions club Youth Exchange is the best experience that I have ever tried.
My host family, Heinz, Maria, Lena and Hannah Steinbauer live in Hartberg, the green city of music. It's located in Styria, an Austria's region full of forest. I spent an amazing week with them. They show me how they live and what they used to do during the Sunday lunch. We also went to Graz, "capital" of Styria. Graz is a picturesque city. There are a lot of houses with strange and beautiful colors and shapes.
They are very nice and friendly . A special thank you to Steinbauer family who took care of me like my real family!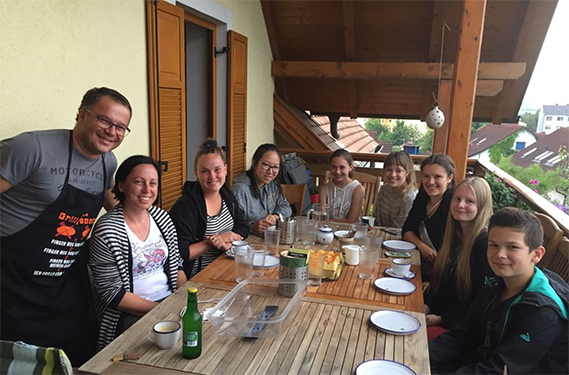 The experience in family was completely different from the camp. We were 25 guys from 20 different countries. We stayed in Neusiedl standt am see, a small city near the lake Neusiedl. Vienna and Around was a sportive camp. Alex, Svetlana, Chris and us spent every evening playing volleyball before and after the dinner. Ernst, the camp director, and our guide (Alex, Svetlana and Chris) were very strict but the taught us the importance of work together, to be responsible and support each other. Because we are a team, a Family.
We went to Vienna three times, we arrived to the top of the Schneeberg, we played golf, we rode a bike for 35km around Neusiedlsee. We also rode a gang car and swum in the lake and we went to climbing.
I shared everything with the others guys. We slept, ate, played, laughed, "died" and cried. How can I forget you?
I spent with "Vienna and around 2018" the best 2 weeks of my life.
I'll never forget Alex and his " seatbelt's on, safety sexy!".
I'll never forget Chris and how quiet and nice was.
I'll never forget Svetlana and her support when I said "I can't do this!" and she said:" You can! I believe you." She taught me Never give up.
And at least, I'll never forget Ernst, our mentor and our father. He taught us who is a leader, what is Family and Friend. We learnt to support each part of this big family. I learnt that we shouldn't think about the past and the problem but we have to focalized the future that we want to have and thinking about the solution.
Give and take. Create, believe and lead.
I started this adventure for known a new culture, I was very afraid.
I found a new family, a new Friends and a new father.
Everyone told me the truth. The hardest part of this exchange is not the language or the food or the different life but the end and the departure.
HE HUI